Desert Hot Springs, CA. -On April 20, 2021, the Desert Hot Springs City Council promoted Luke Rainey to the position of City Manager effective April 26, 2021.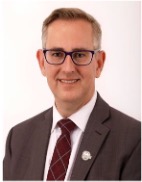 Mr. Rainey started his career with the City of Desert Hot Springs in 2007 as the IT Manager. Since that time, he has accumulated experience via several management roles, including HR Manager, Project Manager, and Deputy City Manager.
As Deputy City Manager, Luke established long-term management strategies, collaborated with elected and appointed officials, provided leadership to Staff and direct oversight to the City Clerk, Finance, Human Resources, and Information Technology departments. He also serves as the City's representative on the Cabot Museum's Board of Directors. He holds a master's degree in Public Administration with a concentration in Public Financial Management.
Luke shares the outgoing City Manager's vision for creating a customer-friendly City Hall. He believes this is achieved by encouraging a learning environment and ensuring Staff members are provided with the necessary tools for success.
Mr. Rainey's training, education and overall experience with the City of Desert Hot Springs consist of the following and will serve the City well.
14+ years with the City of Desert Hot Springs
Four years as Deputy City Manager for the City of Desert Hot Springs
20+ years of Management experience
Master of Public Administration, Public Financial Mgmt. Concentration– Cal State San Bernardino