"Not Even Halloween yet: Jeffrey Dahmer killed, dismembered, and ate his victims."
DLNews Entertainment by JTFMax:
Milwaukee (USA) – It is cut, boiled, and eaten. For once, this new Netflix series is not about creative restaurateurs but Jeffrey Dahmer († 34), one of the most bizarre and disturbing serial killers in history!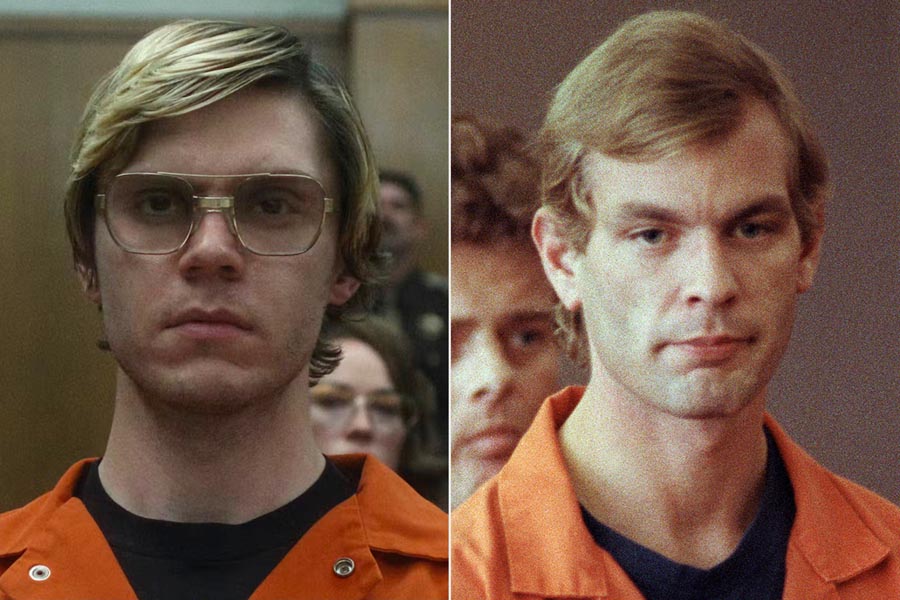 Evan Peters makes a horrific turn as Jeffrey Dahmer in the first trailer for Ryan Murphy's Netflix series.
"Dahmer" gives the mental cinema a screen in 526 minutes, spread over ten episodes. It is a story about the atrocities of the perpetrator, the suffering of the 17 all-male victims and their families, the authorities' failure, the trial, the sentence (16 life sentences) - and the killer's family.
The series really stinks of body parts in the fridge. Netflix tells the story of Jeffrey Dahmer, the Milwaukee cannibal who was caught in 1991 – and had previously lived in Germany for a year and nine months.
Episode 1 (Warning, spoilers!)
The series begins with Dahmer's final assassination attempt. The victim is actually already doomed to die but can free himself and lead the police to the killer's apartment. Arrest. Jeffrey Dahmer becomes the global news headline.
How Jeffrey Dahmer grew up (eps. 2)
Jeffrey Lionel Dahmer was born on May 21, 1960, in Wisconsin (USA). Father German-Welsh and research chemist, mother (Norwegian and Irish ancestors) operated a telex. By 1966 moved to Iowa, Pennsylvania, and Ohio. From 1970: Marital crisis of the parents, mother in psychiatric treatment (1977: divorce, custody dispute).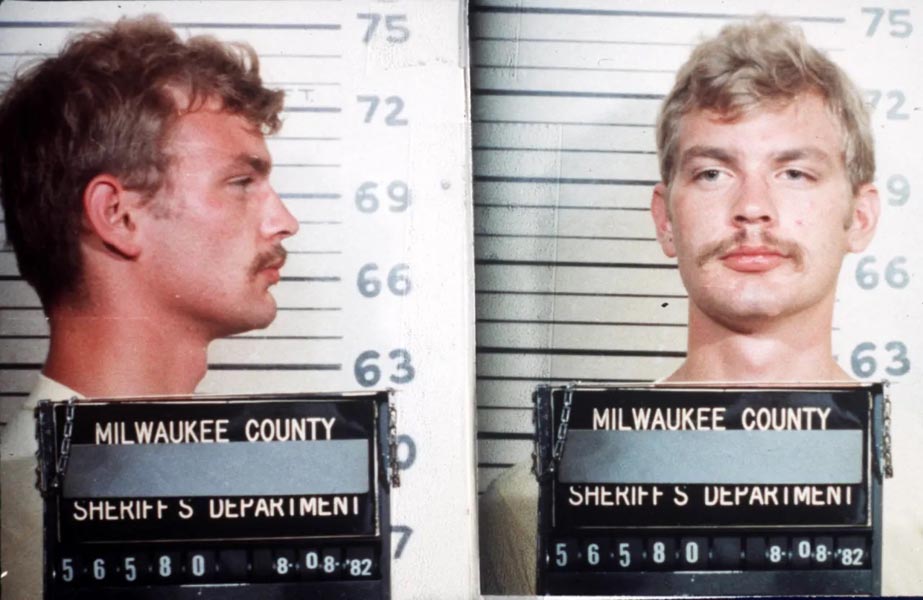 From an early age, Jeffrey Dahmer was interested in bones and entrails and kept dead insects, birds, and rodents in jars with formaldehyde. From the age of twelve, he collected cadavers and dissected them. From puberty, he was interested in men. First violent fantasies (sex with corpses, dismemberment).
At 14, excessive alcohol consumption. At almost 15: Jeffrey failed a baseball bat attack on joggers. From the age of 16: marijuana consumption, heavy booze. Dahmer came to class drunk at times and drank alcohol while doing so. 1978: Graduated from school. He had no contact with his mother until they arrested him in 1991.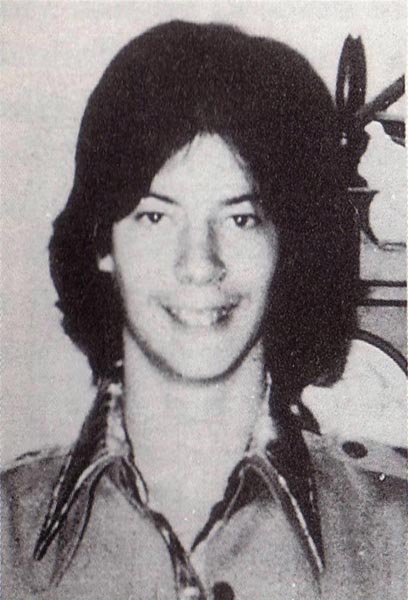 Steven Hicks was Dahmer's first victim.
The first murder - and almost caught (eps. 3)
Shortly after his 18th birthday, Dahmer became a killer: on June 18, 1978, he hitchhiked with Steven Hicks († 18) and drank beer with him. As Hicks was about to leave, he knocked him unconscious with a dumbbell and strangled him. Then he attacked the corpse, took it to the basement, and dismembered it with a hunting knife. He packed the body parts in garbage bags and drove to the landfill. The police stopped him. Dahmer said there im were household rubbish in the sacks and that he couldn't sleep because of his parent's divorce. Nevertheless, the policeman let him drive.
March 27, 1988: Dahmer offered 23-year-old Richard Guerrero $50 for a one-night stay. Instead, he strangled him and molested the corpse. Dismembered, thrown in the trash - but he kept the skull for himself...
1988/1989: Dahmer had now moved out of grandma's house. On September 26, 1988, he offered a thirteen-year-old boy (parents from Laos) $50 for photos. When he grabbed him, the boy ran off and reported him. 1989 verdict: one year in prison with a daily release (five years probation) for sexual assault and seduction of a minor. Dahmer lived with his grandmother again until he entered prison.
Unbelievable: This police officer, of all people, was supposed to question Dahmer about the murder in 1991 - and found out that he could have prevented the murder of 16 other people...
Dahmer later said of the first act: "After it happened, I thought I'd just try to get on with my life as normally as possible and forget it. But something like this always catches up with you."
Military, living with grandma, acting out sexuality (eps. 4)
His father sent him to the US Army in 1979. In a six-week training course to become a paramedic, Dahmer learned the tools of the trade for later actions. From July 1979, station in Baumholder in Rhineland-Palatinate. 1981 prematurely honorably discharged from the army (booze). Return to Ohio. 1982 to grandmother in West Allis (a suburb of Milwaukee). Arrested for undressing in front of women and children at a fair. Two years unemployed. Then job as a chocolate mixer.
Now Jeffrey Dahmer escalated: theft of a mannequin on which he satisfied himself. Failed attempt to dig up a body. In gay saunas, he drugged men with sleeping pills and abused them.
In 1986 he masturbated in front of two twelve-year-old boys. 1987 verdict: one-year probation plus psychotherapy. Diagnosis: schizoid personality disorder with paranoid tendencies. Prognosis: Sociopath with schizoid tendencies.
In 1987 he was banned from the saunas because one of his 10 to 15 victims ended up in the hospital from an overdose. He then sought out at least six abuse victims in bars and nightclubs, developing a liking for listening to the heartbeat of the drugged.
More victims, new murders, and the first jail (Episode 5)
In late November 1987, Dahmer killed 25-year-old Steven Tuomi at the Ambassador Hotel. He stuffed the corpse into a suitcase, took a taxi home to grandma's, dismembered the corpse, and threw the parts in the household waste. But, again, his actions carried no criminal penalties: "At that point, my moral conscience was so screwed up, so utterly depraved, that [my fantasies] became the focus of my life."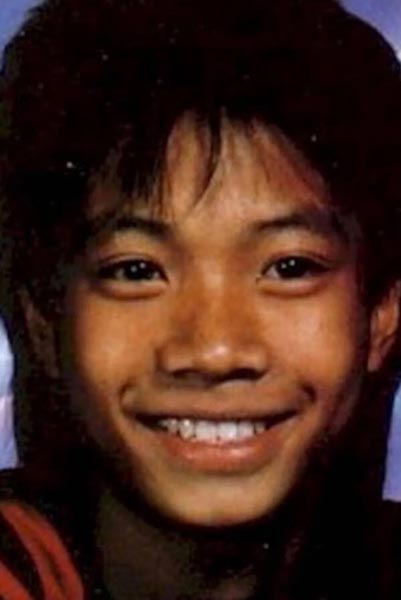 The youngest murder victim: Konerak Sinthasomphone (14).
Next murder victim: James Doxtater († 14). At around 1 a.m. on January 17, 1988, Dahmer picked up the young man of Indian origin at a bus stop and offered him $50 for one night. Instead, the boy went home with him. After the sex, Dahmer drugged and strangled him, molesting the corpse. Dismembered, thrown in the trash...
Escalation of murders in Apartment 213 (6)
On March 25, 1989, Dahmer killed 24-year-old half-African American Anthony Sears. He prepared the head and genitals and placed them in his locker at the chocolate factory. May 23, 1989: Started prison in an open prison. Dahmer obtained the early with a letter Incarcerated on March 2, 1990. Condition of parole: group therapy and regular meetings with the parole officer.
May 14, 1990: Moved to apartment 213 in the Oxford apartment complex on North 25th Street in Milwaukee. Dahmer installed door locks, an alarm device, dummy camera in the apartment.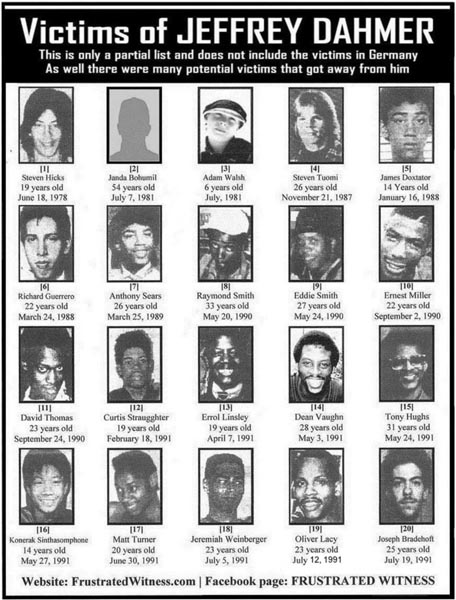 Dahmer confessed to 17 murders; 16 could be proven to him.
May 21, 1990: Raymond Smith, 32, was one of the first 12 victims in the new home. On June 24, 1990, Dahmer murdered 27-year-old African American Edward Smith; on September 3, 1990, 23-year-old African-American Ernest Miller and three weeks later, 22-year-old African-American David Thomas.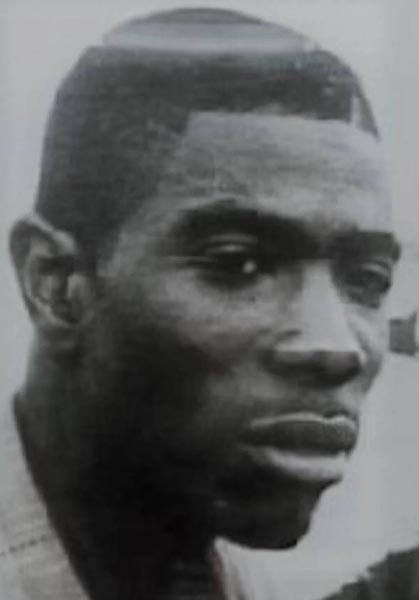 Victim number 8: Ernest Mille.
Full escalation in 1991: From February to the arrest in July, Dahmer killed eight people. The killer later commented: "It was an incessant, never-ending desire to be with someone, no matter the cost. I couldn't think of anything else all day." Victims: Curtis Straughter (17), Errol Lindsey (19), Tony Anthony Hughes (31, deaf), Konerak Sinthasomphone (14), Matt Turner aka Donald Montrell (20), Jeremiah Benjamin Weinberger (23), Oliver Lacy (24), Joseph Bradehoft (25).
Body Parts, Exorcist, Arrest (eps. 7)
In the summer of 1991, Dahmer's apartment contained a severed head (fridge), two human hearts packed in plastic bags and a piece of arm muscle, three heads, a torso and several human organs in a freezer, and three corpses (bed, shower tray). In addition, seven skulls in cupboards, two skeletons, a pair of hands, a mummified scalp, and the mummified genitals of two men. In addition, a plastic barrel with a capacity of almost 200 liters, in which the torsos of three victims dissolved in an acid bath.
Because everything stank, he was threatened with eviction on July 22, 1991. He went to the "Grand Avenue Mall" and offered men money for photos. 32-year-old Tracy Edwards went home with him. Dahmer handcuffed him, threatened him with a knife, and forced him to watch the movie Exorcist III with him.
Edwards managed to escape with handcuffs on his wrists and led police officers to the killer's apartment. Dahmer had an officer look for the key to the handcuffs in the bedroom. Instead, the policeman discovered the knife under the bed and Polaroid photos of the murder victims in an open drawer. Arrest!
Confession, Cannibalism, Trial, Verdict (eps. 8)
After his arrest, Dahmer made a 178-page confession over six weeks (60 hours of interrogation). He said he ate pieces of the heart, hamstrings, and biceps of three of the victims.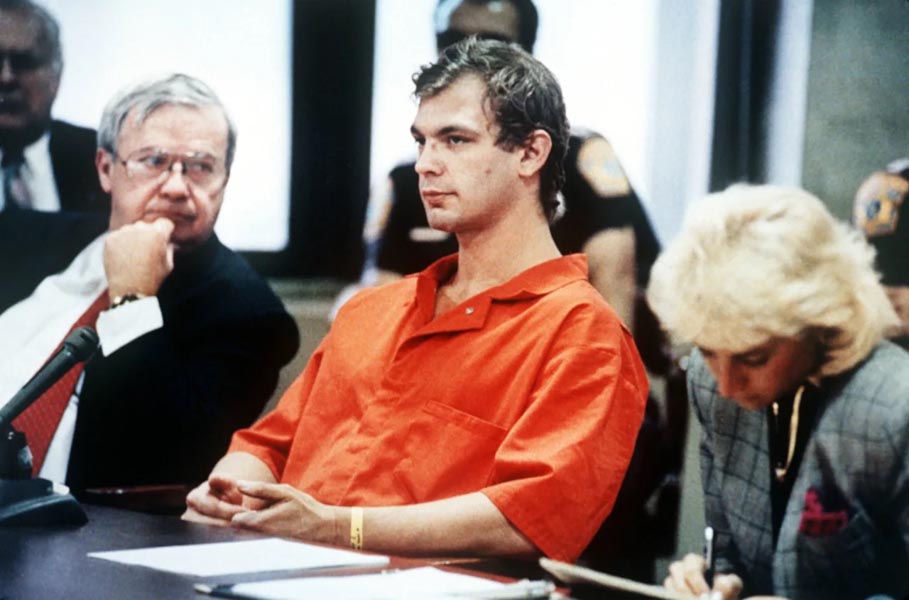 August 22, 1991: Dahmer in court in Milwaukee.
On January 30, 1992, a Milwaukee grand jury indicted Dahmer on fifteen counts of murder (the first murder was not in Wisconsin, and the second case could not be reconstructed beyond reasonable doubt). The defense pleaded guilty but of unsound mind. The prosecution convinced the jury: The jury found him to be sane on all charges.
Before the verdict, the relatives were allowed to speak in the courtroom, but Dahmer had the last word. He said he regretted the actions and wished he could undo them.
Verdict on February 17, 1992: 15 life sentences (he later received a life sentence in Ohio for the first murder). Total sentence: more than 900 years in prison.
Faith and Death in Jail (Episode 9 + 10)
Dahmer (inmate number 177252) came to a maximum security prison with about 600 inmates in Portage (Wisconsin) and spent the first year in solitary confinement. His family visited him often, and he received tons of letters – hate mail, autograph requests, love letters, even gifts of money worth $12,000. In prison, Dahmer became a Christian and was even baptized.
At the end of 1994, he joined a kind of janitor group in prison. On the morning of November 28, 1994, Dahmer was assigned to the gym with fellow inmates Jesse Anderson and Christopher Scarver. As soon as the guards were gone for a few minutes, Scarver knocked Dahmer and Anderson down with a barbell. Dahmer died less than an hour later.
The African American Scarver, already serving time for murder, was sentenced to two more life sentences for the murders of Dahmer and Anderson.
Authorities' failure
The police failed not only in the first murder. Officials would have had several opportunities to stop Dahmer.
September 1988: During the six-day pre-trial detention (the seduction of a minor), the police searched Dahmer's apartment but overlooked the prepared skull of the fourth murder victim.
March 1990 to July 1991: Dahmer's probation officer didn't even look around his apartment, despite the instructions. During this time, he killed twelve people there.
July 1990: A juvenile reported Dahmer (on probation for outdoor seduction of a minor) for attacking him with a rubber mallet. The police did not believe the boy and did not investigate.
Updated: Because of the strong smell of decomposition, the police questioned every tenant. However, they did not find the torso in Dahmer's bathtub.
May 27, 1991: 14-year-old Konerak Sinthasomphone managed to escape despite being stunned. Local residents called the police. Dahmer actually convinced the officials that the teenager was of legal age. They also believed him that Dahmer and the boy were a couple. The police officers then brought the boy back to the horror apartment. They neither noticed the body of the previous victim nor checked Dahmer. As soon as the officers left, the killer killed his victim.
May 30, 1991: Three days after the youth's murder, a local resident saw a missing person's photo of the victim in the local newspaper. Although she called the police, the lead was not followed.