DLNews Fashion:
This year, the famous Met Gala was all about Karl Lagerfeld († 85). Stars like Jennifer Lopez (53), Kim Kardashian (42), Kendall Jenner (27), and Gisele Bundchen (42) came to New York on Monday to honor King Karl. And showed fashion heaven on earth.
The fashion designer and his work, who died in 2019, were commemorated under "Karl Lagerfeld: A Line of Beauty." The superstars floated over the white carpet of the Met Gala in clothes designed by him or dedicated to him.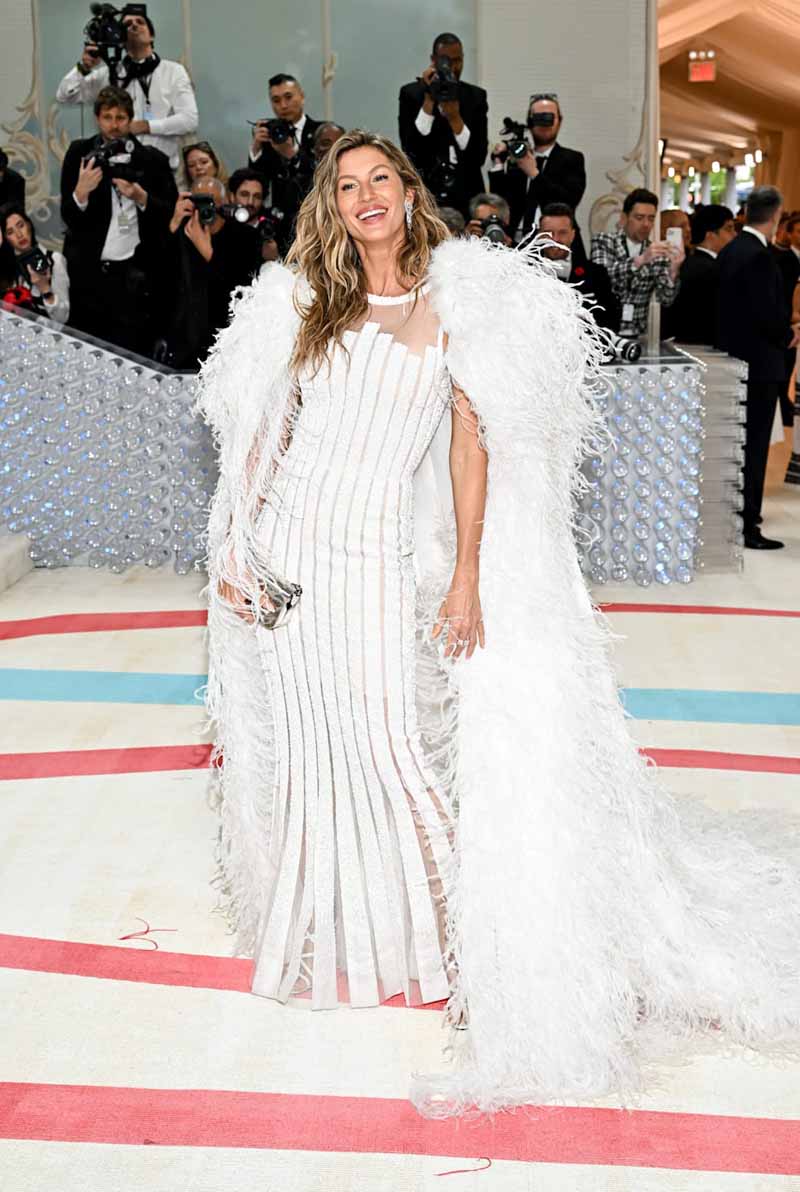 Supermodel Gisele Bundchen beams for photographers at the Met Gala
Supermodel Gisele Bundchen posed angelically for photographers in her first public appearance since splitting from her husband, Tom Brady. In addition to her Chanel vintage dress with sparkling sequins (from the spring couture collection 2007), her feathered cape caused a stir.
Stunning: Jennifer Lopez in Ralph Lauren
Jennifer Lopez arrived in a black and white dream dress by Ralph Lauren. The eye-catcher's tight, wrapped top spilled into a two-part train at the back.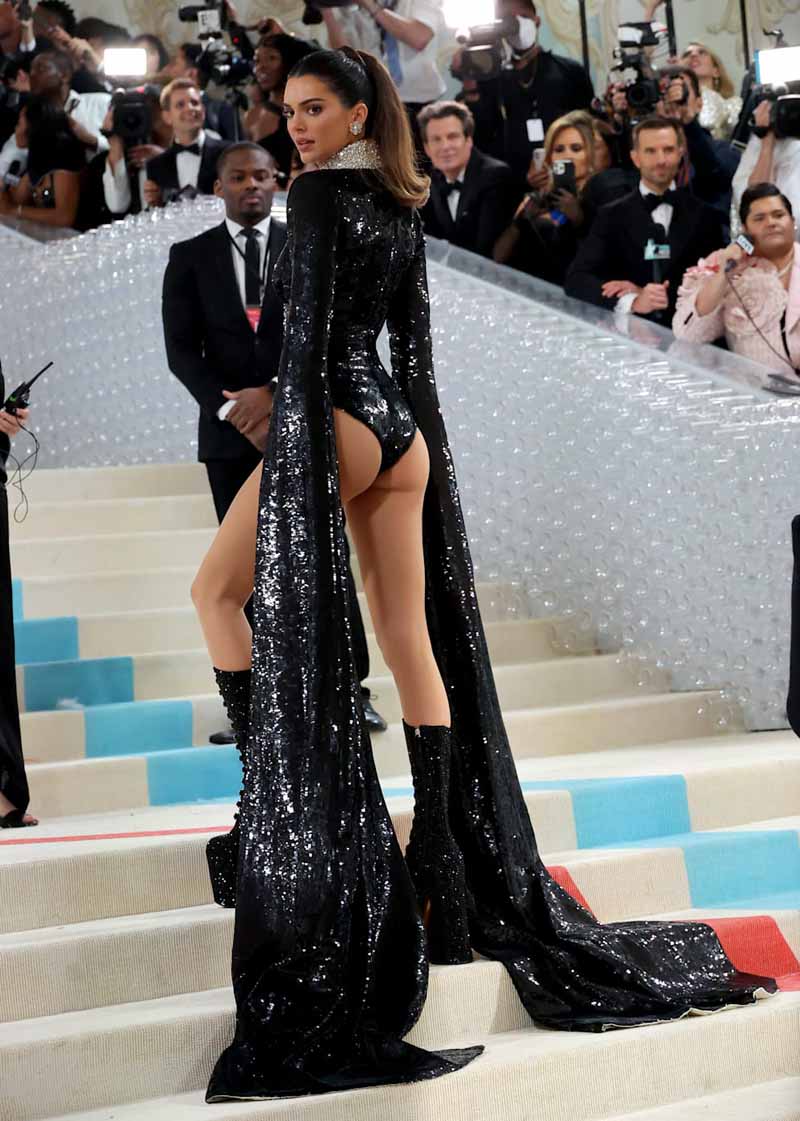 Kendall Jenner in a hot Marc Jacobs outfit
Kendall Jenner of the Kardashian clan showed off her sweet butt in a black glittery Marc Jacobs outfit. Who needs pants when you have such a downside?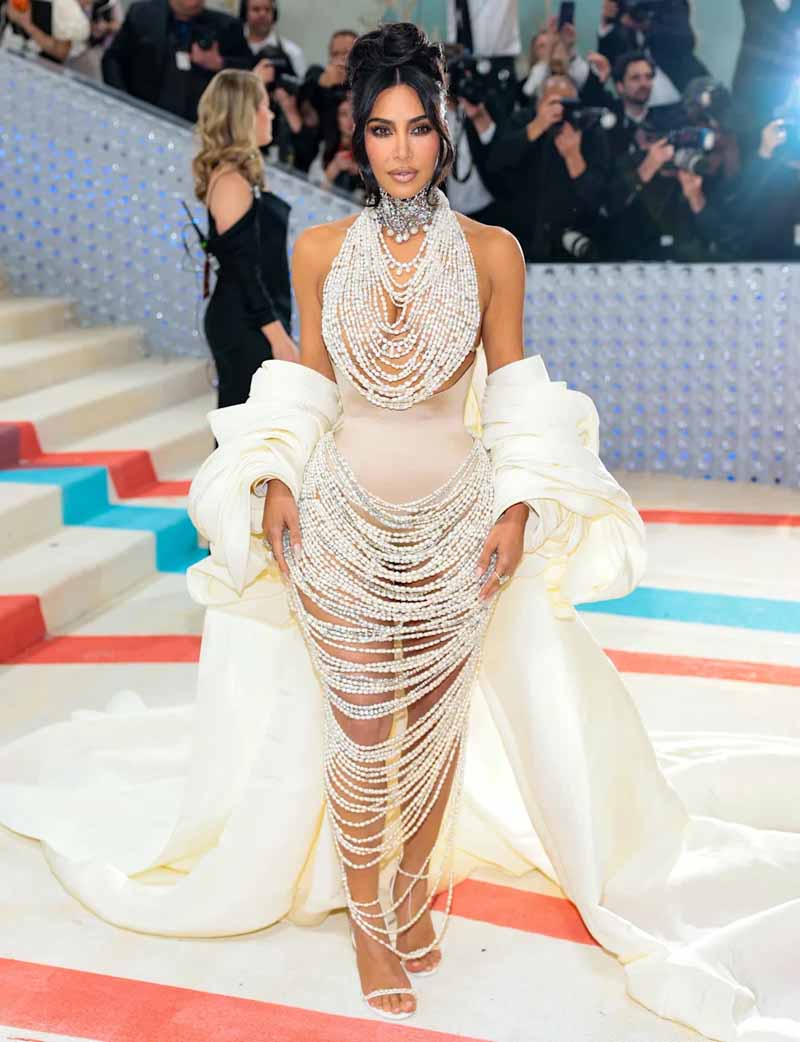 Kim Kardashian wore a beaded outfit that showed much skin
Kim Kardashian showed up in the Schiaparelli outfit, which was made entirely of strands of pearls, with a flesh-toned corset holding her famous curves down the middle.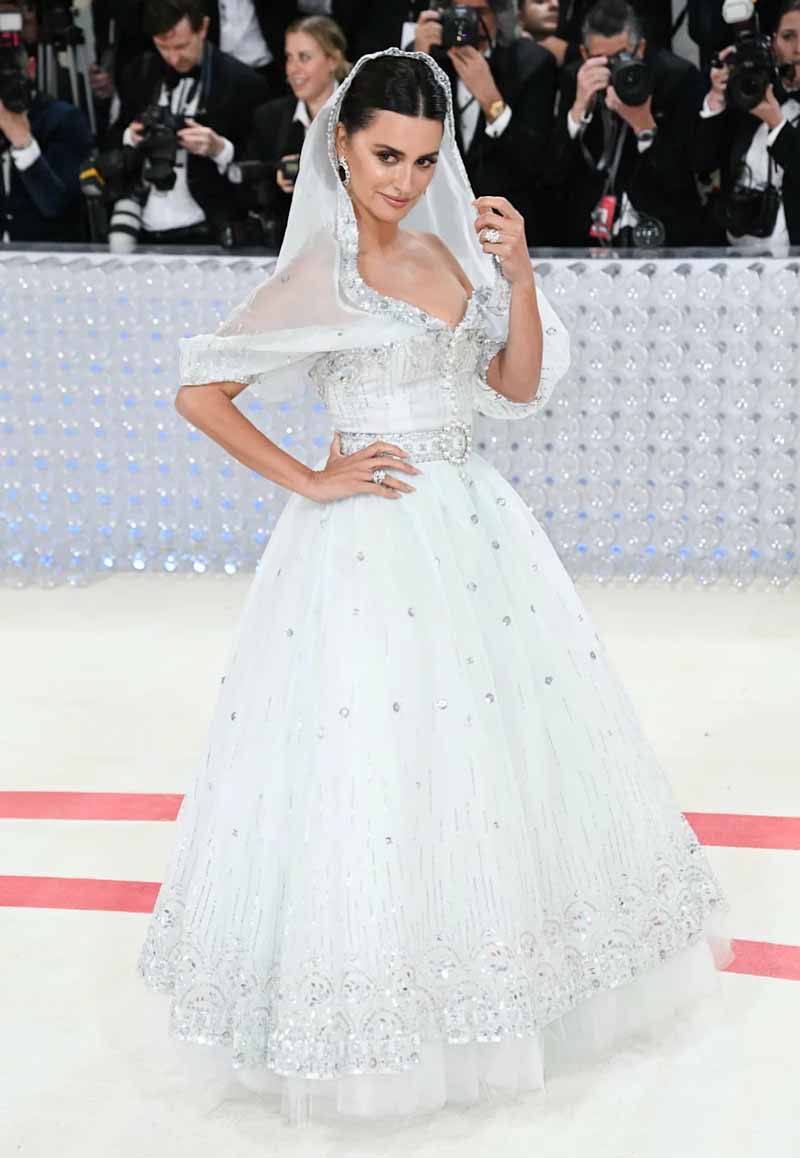 Penélope Cruz in Chanel wedding dress
Film star Penélope Cruz (49) floated over the fashion gala carpet like a bride. She co-chaired this year's Met Gala, continuing the trend of Karl Lagerfeld's iconic wedding dresses. In addition, she wore a dress from Chanel's Spring 1988 Haute Couture collection.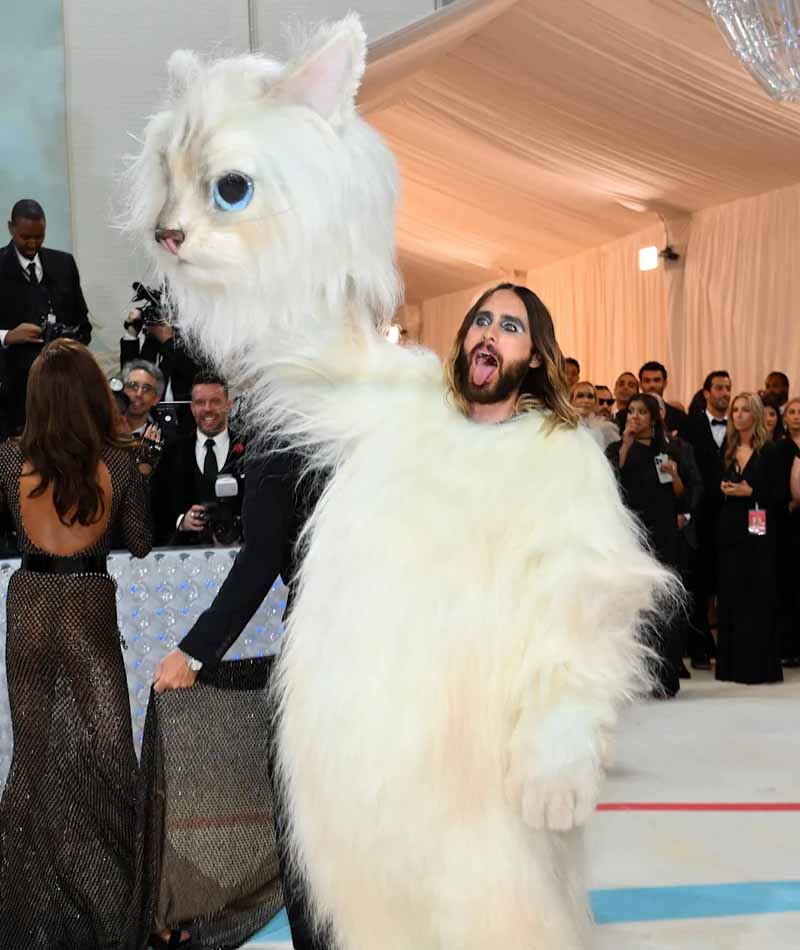 Jared Leto as Lagerfeld's cat Choupette
Hollywood star Jared Leto (51) took the Lagerfeld Gala motto. He came in a cat outfit and looked like Choupette (11), Karl Lagerfeld's beloved Birman kitten. By the way, she was also invited, but then decided to stay at home …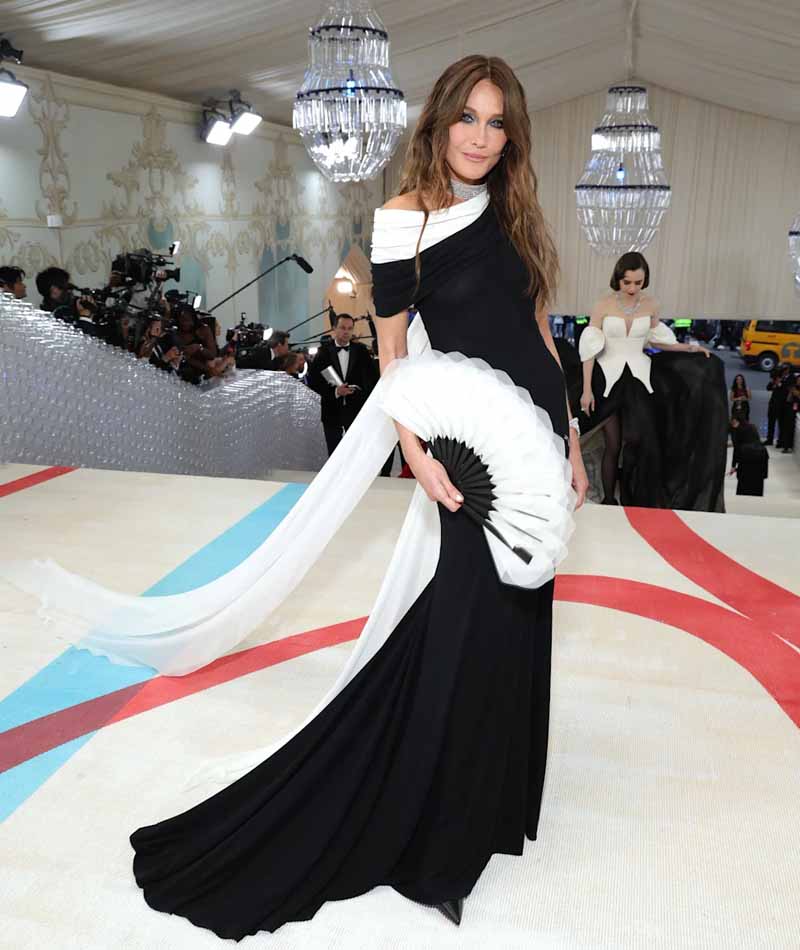 Carla Bruni in the 2001 Lagerfeld look
Ex-model and musician Carla Bruni (55) also insisted on honoring Karl Lagerfeld. She and the designer were friends for thirty years, even off the catwalk. So to celebrate his legacy, she chose a 2001 Karl Lagerfeld look in the designer's signature black and white, with an asymmetric neckline and flowing train.
Margot Robbie traded her pink Barbie dress for the evening for a black Chanel bodice dress worn by supermodel Cindy Crawford in the 1993 fall couture show.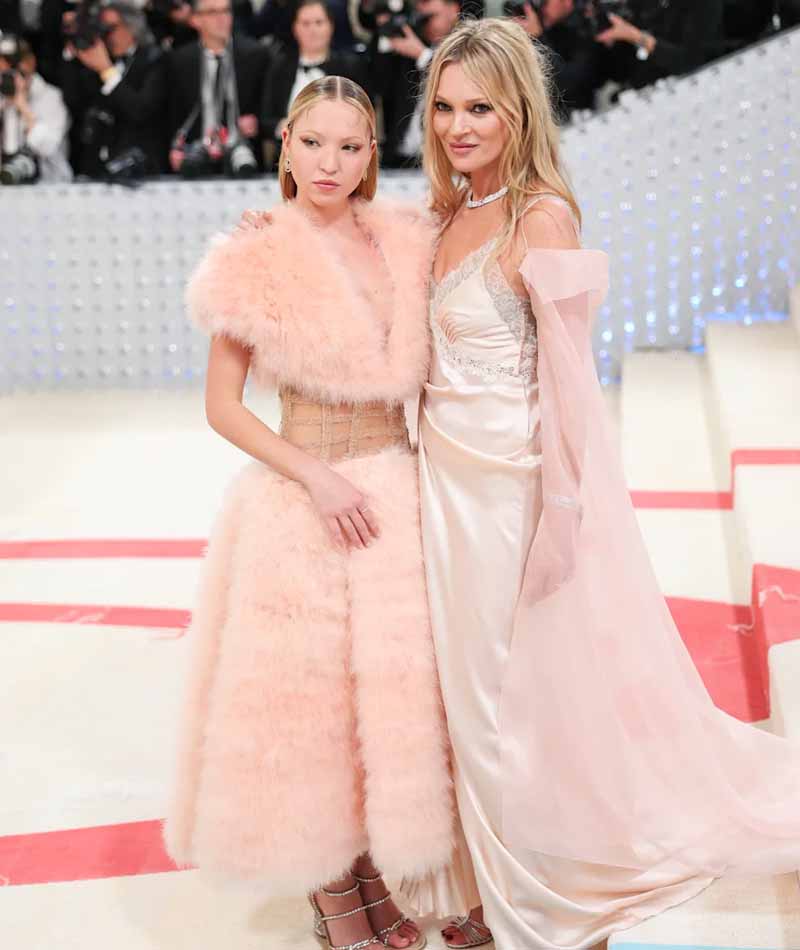 Kate Moss and her daughter Lila
Fashion icon Kate Moss (49) brought her daughter Lila (20) with her – both came in light pink Fendi Couture. For years, the supermodel was Lagerfeld's muse for the fashion house Fendi.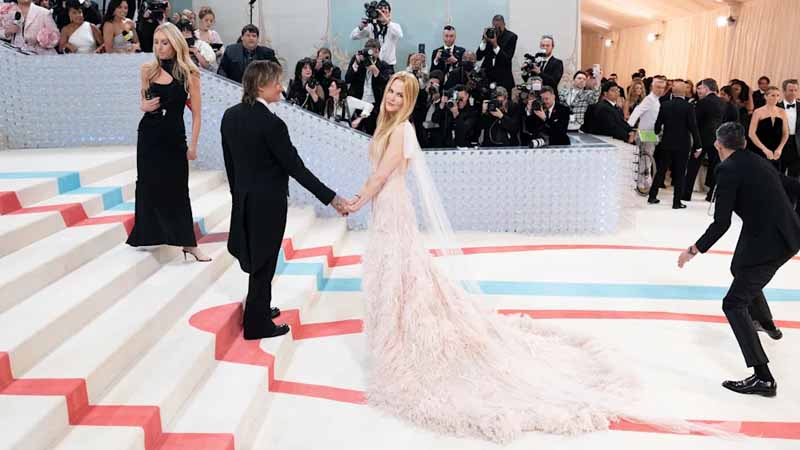 Nicole Kidman holding hands with her husband, Keith Urban, at the Met Gala
Hollywood star Nicole Kidman (55) came with her husband, singer Keith Urban (55). The actress wore a Chanel couture dress made for her by Karl Lagerfeld for the Baz Luhrmann-directed short film for Chanel No. 5 with a Moulin Rouge storyline, which aired in 2004.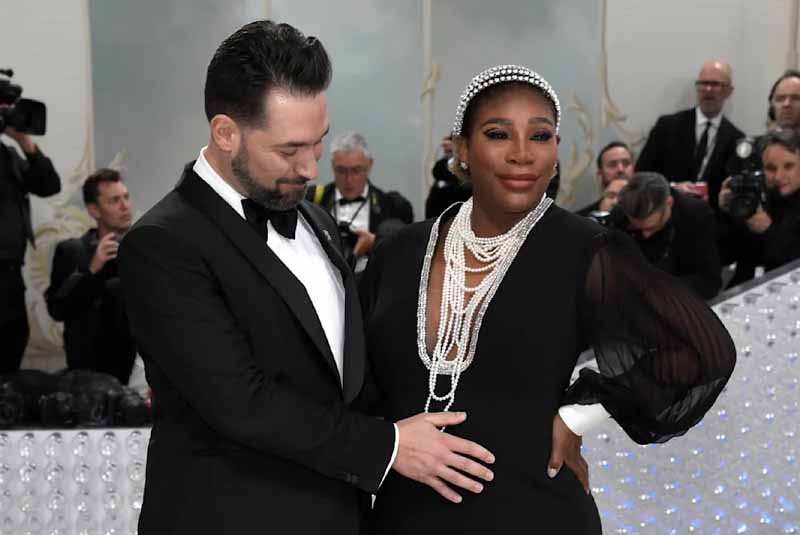 Serena's husband emphasized her baby bump by placing his hand on it, beaming.
Sweet surprise at the Met Gala
Tennis icon Serena Williams announced her second pregnancy at the famous Met Gala. The 41-year-old appeared at the Met Gala with her husband, Alexis Ohanian, 40. She wore a black dress, under which a baby bump became apparent, and her husband put his hand on her stomach caringly. The 23-time Grand Slam winner also posted photos of her husband and herself in the gala outfit on Instagram and wrote, "I was so excited when Anna Wintour invited the three of us to the Met Gala." "There are three of us here, with our newcomer," Williams said publicly. "I'm doing well. I can breathe and stop hiding."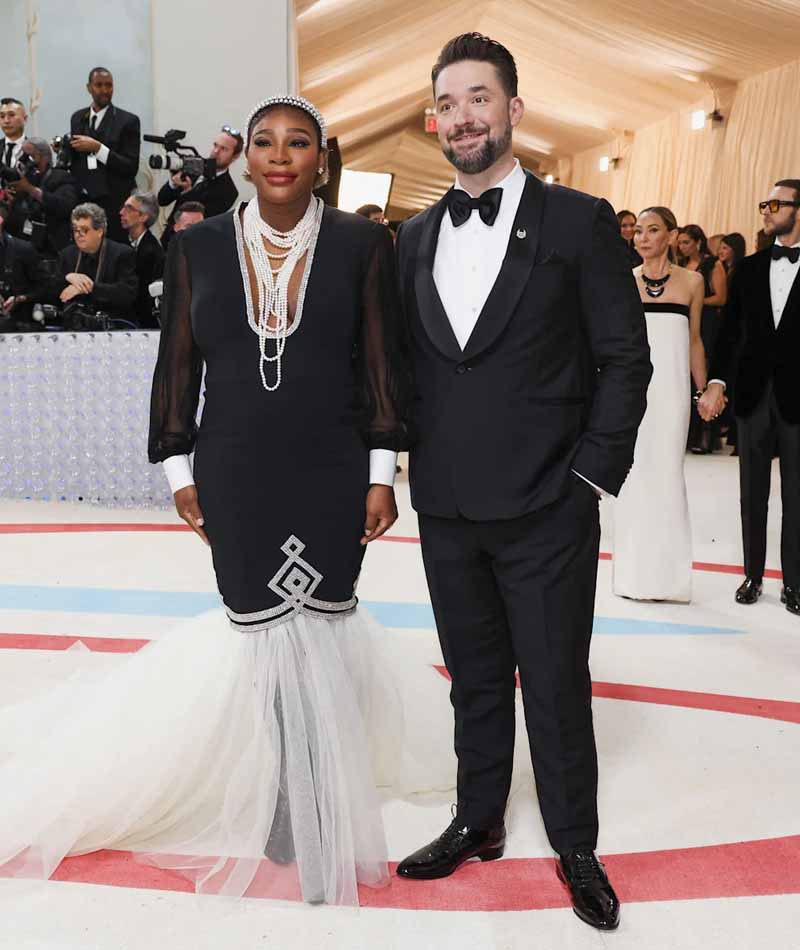 Serena Williams and their husband, Alexis Ohanian, are expecting their second child.Williams, who ended her tennis career in 2022, has had a daughter since 2017
Singer Rihanna (35) also came with a baby bump. However, you already knew that she was pregnant again. The big moment of disclosure came during her Super Bowl performance in February. She wrapped her sweet baby bump in a floral Valentino dress for the Met Gala.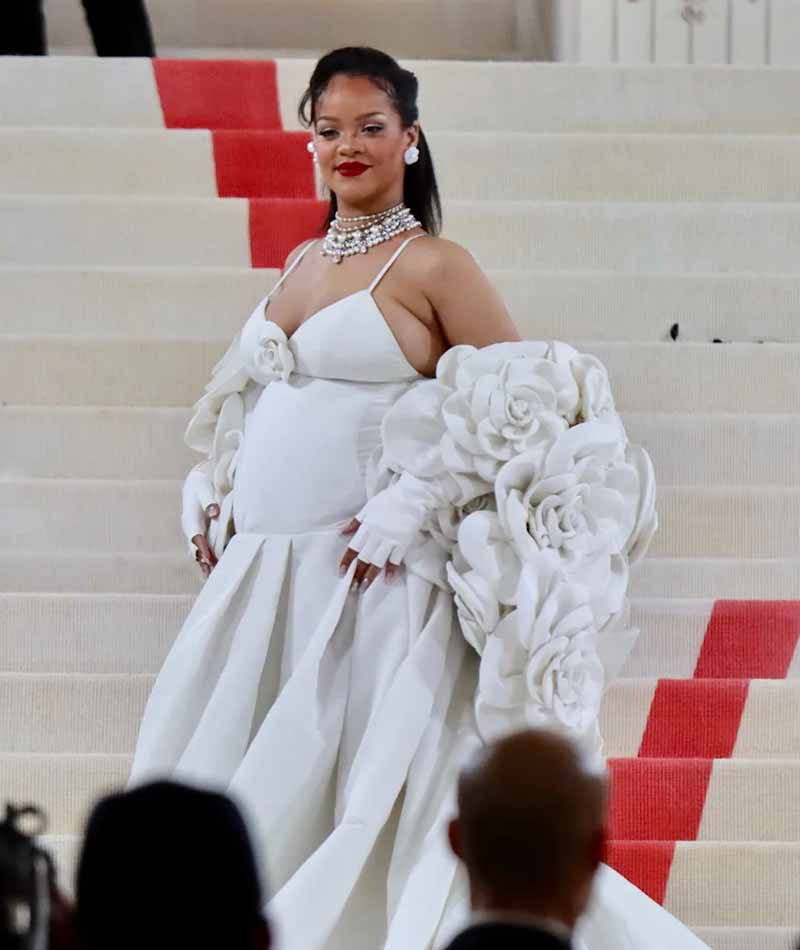 The pregnant Rihanna at the Met Gala
And another baby bump to be amazed: US model Karlie Kloss (30) also showed at the Met Gala in a tight black dress by Loewe that she will be a mom again after her son Levi (born 2021).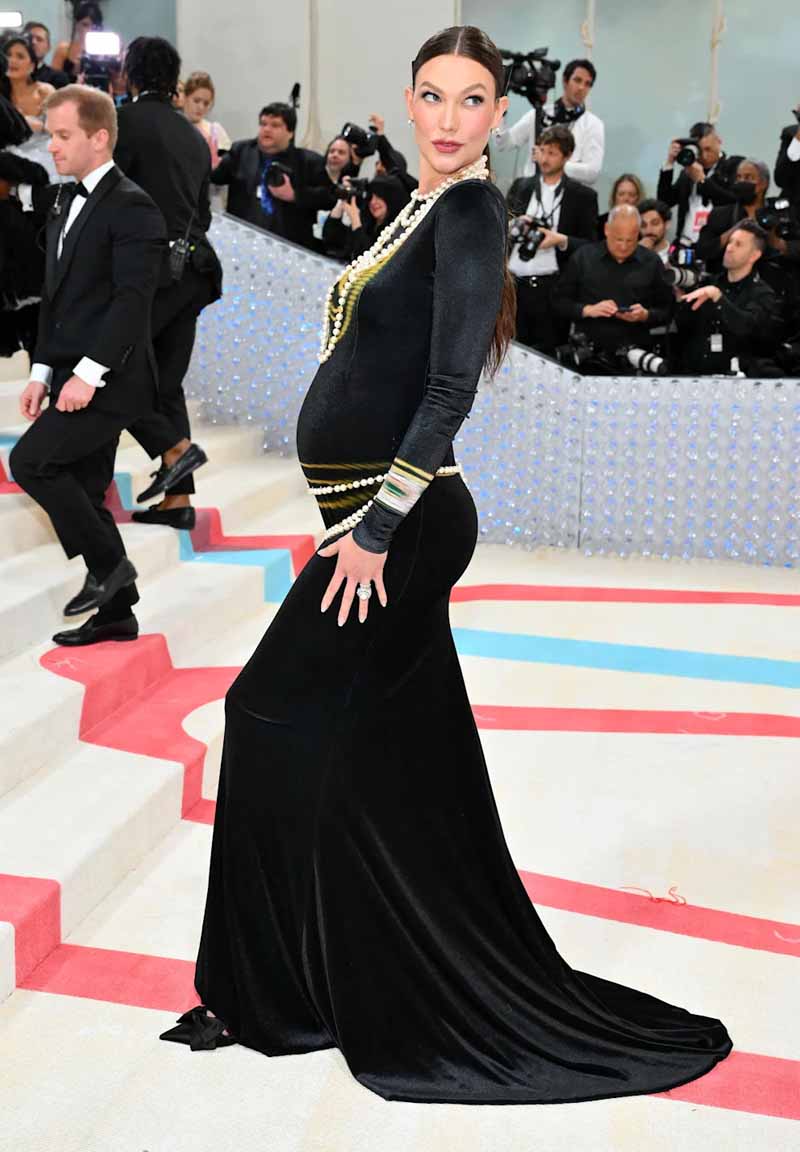 Model Karlie Kloss is pregnant again. This was shown very proudly at this year's Met Gala in New York
After the gala, the celebrations continued at the after-show party
The official Karl Lagerfeld Aftershow Party took place at the legendary Mark Hotel on the Upper East Side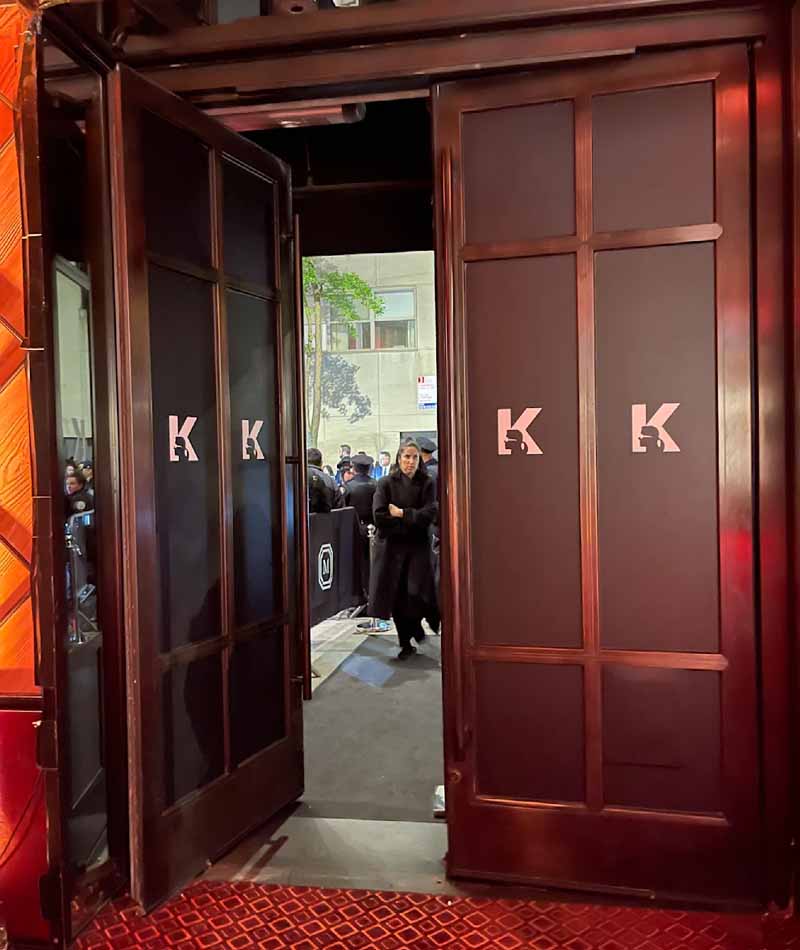 Whoever wanted to get in here needed an official invitation
Even before the party started, fans and onlookers lined the street. The whole block was cordoned off because everyone wanted to attend this party. It probably had the most formidable door in town – entry was only granted with an official invitation from Karl Lagerfeld.
Shortly after 11 p.m., Michelle Yeoh (60) arrived at the party. The actress, who won the Oscar for Best Actress ("Everything Everywhere All at Once") this year, finds very personal words: "Working with Karl was so inspiring for all of us. He was creative, spontaneous, and a genius; we miss him a lot!" She beams and explains: "Karl has always created everything with his whole soul and spirit; he would love this tribute to him."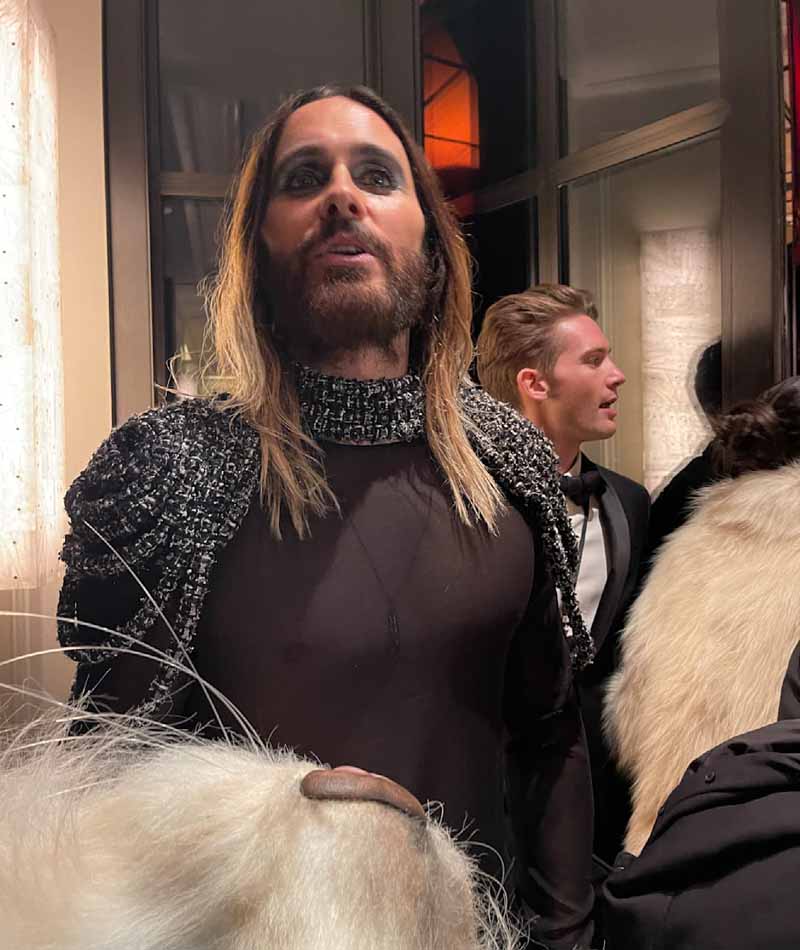 Hollywood star Jared Leto at the after-show party
Hollywood star Jared Leto (Oscar for Best Supporting Actor for "Dallas Buyers Club") continued to celebrate. He came to the Met Gala dressed up as Choupette while she licked her paws at home. "I hope she saw me in my Choupette outfit. I know Karl is looking down at us from heaven right now and smiling. And that's the most wonderful thing about it." According to the actor, Karl would love this party here. "I mean, how could he not?"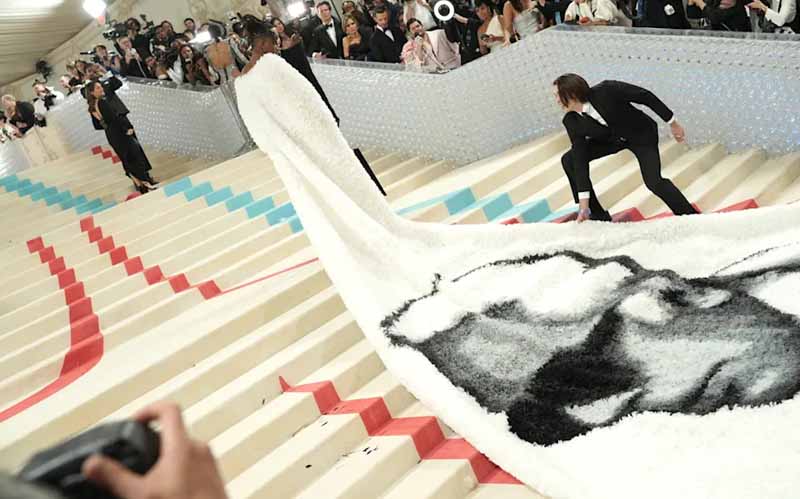 Paris Hilton (42), invited to the Met Gala for the first time this year, rushed to the party with her entourage. In the best mood, with oversized sunglasses. "I'm so happy to be here today. It's so great, and I'm having a great time."
Also seen at the party: supermodel Cara Delevigne (30), who quickly ran away with her manager. Influencer Caro Daur (28) and actress Lily Krug (21, daughter of actress Veronica Ferres) traveled to New York, especially for the Lagerfeld party. The party lasted until 1:30 a.m.