DLnews Entertainment:
CATHEDRAL CITY, CA – Coachella Valley Repertory closes its 2022-2023 Season with the irreverent and hilarious five-time Tony® Award nominee and winner of Best New Play HAND TO GOD by Robert Askin. The NY Times called HAND TO GOD a "darkly delightful play." Audiences will laugh and perhaps wonder if they shouldn't be so totally entertained. It is truly a wild and wonderful ride! HAND TO GOD OPENS March 28-April 9. Craig Wells returns to CVRep to direct; the set design is by Jimmy Cuomo, costumes by Emma Bibo, lighting design by Moira Wilke, and the stage manager is John M. Galo. Puppets are by Ryan Marquart and Thomas Mitchell.
Performances of HAND TO GOD are Tuesdays through Sundays, March 28-April 3, 2023, and March 4-9, 2023. Curtain time for Wednesday through Saturday evening performances is 7 p.m., and Saturday and Sunday matinees are at 2 p.m. Audiences Free Talkback Thursdays are held after every Thursday performance, offering audience members the opportunity to discuss the plays with the directors and cast.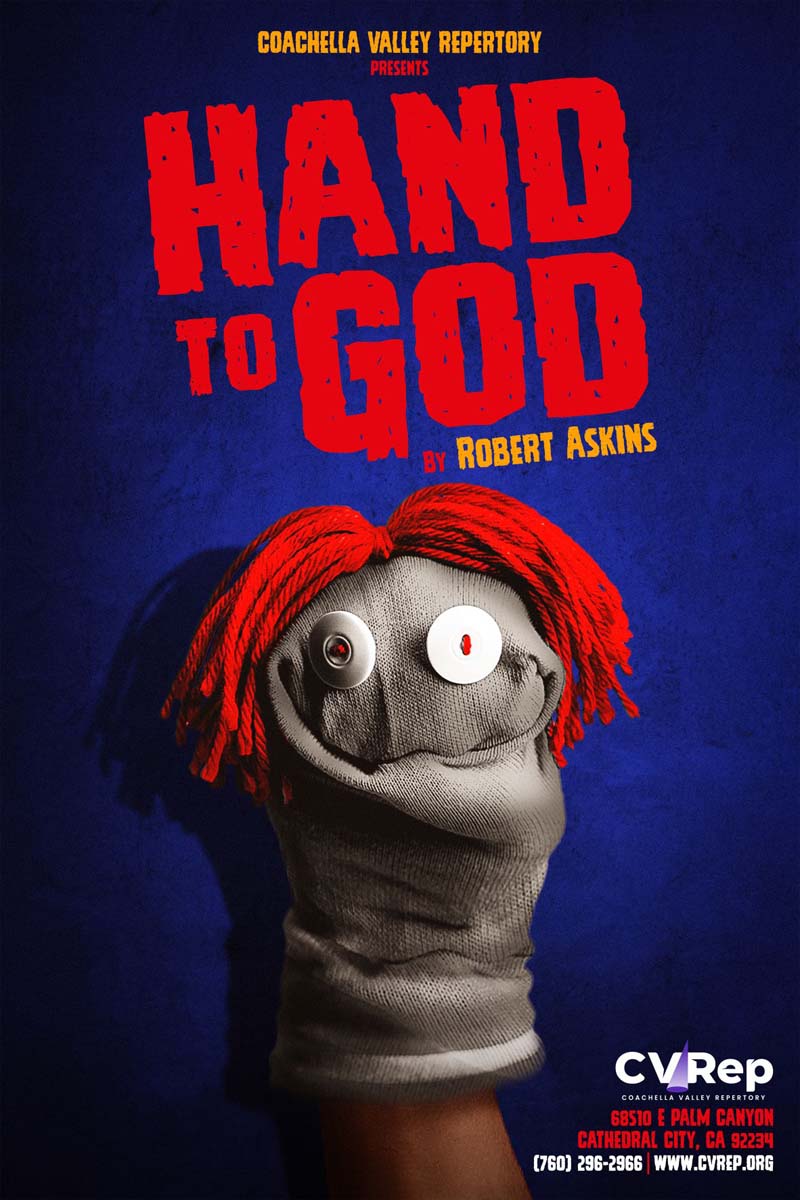 Single tickets for HAND TO GOD are on sale now and are $58, $63, and $73. They may be ordered online at www.cvrep.org, by calling (760) 296-2966, ext. 115, or at the CVRep box office at 68510 East Palm Canyon Dr., Cathedral City. Box office hours are Monday-Friday from 10:30 a.m. to 5:00 p.m. and two hours before performances. Group tickets are available and can be arranged by calling the box office. To better serve audiences, patrons requesting accessibility assistance are encouraged to contact the box office at least 24 hours before their ticketed performance.
Audience members should note that this dark comedy contains sexualized scenes, violence, profanity, and puppet nudity
In the tiny, decidedly conservative town of Cypress, Texas, shy, mild-mannered (albeit lust-filled) teenage Jason is just trying to be a good son. Unfortunately, his mother, Margery, is struggling with the recent loss of her husband. Jason's only solace is the Christian Puppet Ministry that his mother has established in the basement of the town's Lutheran church, led by Pastor Greg. Her pupils are nerdy hot girl Jessica, juvenile delinquent Timothy, and Jason. Jason discovers that he has a talent for puppetry, and it seems all will be well following his father's death. Then - along comes Tyrone, Jason's puppet, who has other plans. He is foul-mouthed, disruptive, and full of the devil. Jason begins to feel that Tyrone possesses him. Under the influence of the puppet, Jason confronts bully Timothy, hits on Jessica, and confronts his mother about her bad life choices. Decidedly inappropriate and hysterically funny, HAND TO GOD does explore ideas of faith, morality, and human nature initially and irresistibly.
However - things get slightly out of hand before. Tackling the nature of good and evil, HAND TO GOD is a metaphor for getting to the crux of matters.
CREATIVE
ROBERT ASKINS – PLAYWRIGHT
Robert Askins was born in Cypress, Texas, eventually relocating to New York City. He has received two Ensemble Studio Theatre/Sloan grants and an Arch and Bruce Davis Award for Playwriting. In addition, he has received commissions from Divercity Theatre and Baylor University. His play Princes of Waco was produced and developed by Youngblood. Askin's one-act play, Matthew and the Pastor's Wife was part of Marathon 2010 at the Ensemble Studio Theatre. Another play, Doll Parts, was read with the Write Club, sponsored by Arlene Dahl. He also has part of the 52nd Streets Heads or Tail: The Chancey Plays. His work, The Love Song of the Albanian Sous Chef, won a Dallas Outer Circle Critics award. Hand to God opened on Broadway in 2015 and received five Tony Award nominations, winning Best New Play. For television, Askins wrote and produced "The Umbrella Academy" and was the editor for another series, "The Son." He also appeared in the TV series "Unicornland," as Benjamin Franklin in "Here's What I Like: Our Forefathers. And "Now I'll Tell You Why," and in the comedy TV movie, The Share.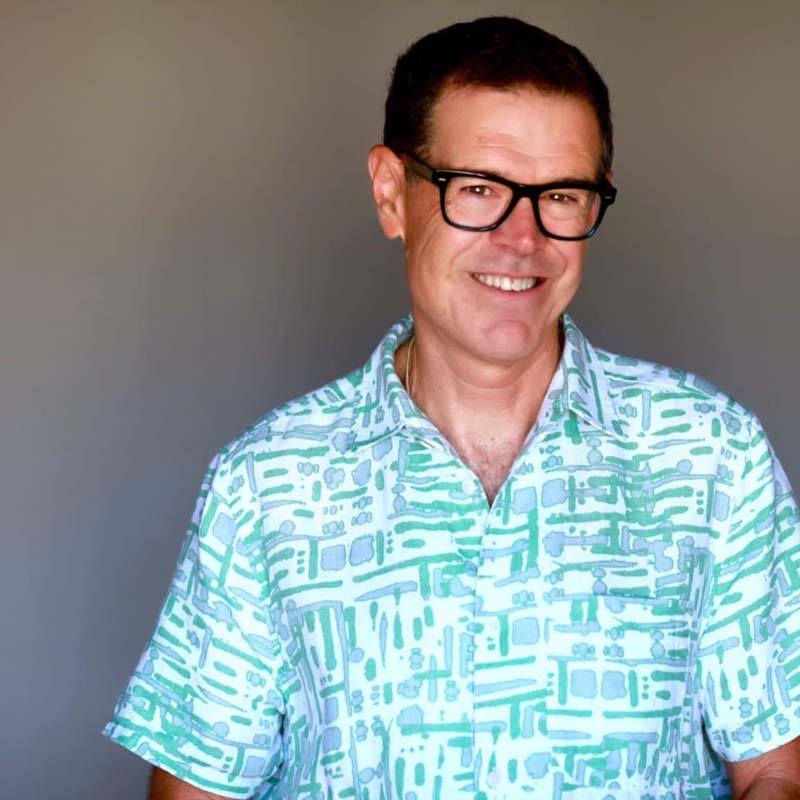 CRAIG WELLS – DIRECTOR
Before moving to the Coachella Valley, Craig was on faculty in the Department of Theatre and Dance at the University of Vermont. His classes included Introduction to Acting, Improvisation, Musical Theatre Performance, and The Business of Show Business. He directed Shakespeare in Love, Hand to God, Stupid F#@king Bird, and A Grand Night for Singing during this time. During his 20 years as a professional actor in NYC, Craig made his Broadway debut in the musical Chess (original cast recording). A few years later joined the Broadway cast of Les Misérables after spending over a year on the U.S. National Tour of that musical. He was a regular performer for several years in the off-Broadway hit revue Forbidden Broadway, which he also performed in Los Angeles, and can be heard on the original cast recording Forbidden Broadway Vol. 3. He appeared off-Broadway in Closer Than Ever, Colette Collage, and Balancing Act (original cast recording). Television credits include All My Children, Another World, and Reading Rainbow. In addition, he performed lead roles at numerous regional theatres, including Arena Stage, Indiana Repertory Theatre, Syracuse Stage, and The MUNY in St. Louis. While in Vermont, Craig performed lead roles in The Drowsy Chaperone, Unnecessary Farce, and Rumors at St. Michael's Playhouse on IG @cewellsdirector.
CAST
LUKE WEHNER – JASON/TYRONE
Luke Wehner makes his CVRep debut as the troubled Jason and troublemaker Tyrone. In a previous production of Hand to God, Wehner received a Cleveland Critics Circle nomination for Best Actor. He has also performed in Peter and the Starcatcher and John at the Dobama Theatre, The Crucible; Everything Will Be Different at the Hunger Theatre, Dog Sees God at the Inner Circle Creative, A Clockwork Orange for Hubris Theatre Company, poor little lulu at Cleveland Public Theatre. In addition, Wehner has appeared in the Jordan Presents, receiving the New Visions & Voices Festival Best Supporting Actor award, plus Crosby, Willy, Farmer Al!, and Arbor Day. He is the lead vocalist of the New York-based rock band Permanent Revolution (find them wherever music is streamed). Wehner is a Circle on the Square Theatre School graduate student of Ken Schatz and Amy Lyndon. Many thanks to Craig, Adam, and everyone at CVRep. For Ally, Yury, and Pauline… who always spoke her mind!
ALEISHA FORCE – MARGERY
Aleisha Force is a Texas native and was a high school teacher in Houston before starting her acting career. She is most proud of the roles of Cleopatra in Antony and Cleopatra at the Virginia Shakespeare Festival, Emilia in Othello at the Greer Garson Theatre, Jeannie in Fat Pig at Dallas Theatre Center, and Jane Roe in Roe and Meagan in their world premiere of Human Interest Story at LA's Fountain Theatre. Her films include Subconscious, The Promise, Hold Your Peace, and Making It Real, and can be seen on TV in "This is Us," "For All Mankind," "Prison Break," and In "The Cut." Force holds an M.F.A. from Southern Methodist University (SMU) and studied with The Groundlings and UCB NYC. www.aleishaforce.com


KENNY STEVENSON – PASTOR GREG
Stevenson makes his CVRep debut as Pastor Greg. He is a noted comedian, actor, writer, sketch, and improv artist, having performed in Los Angeles for 20 years and Upright Citizen's Brigade for 15, as well as The Groundlings, The Jim Henson Company, UCB Sunset, and Westside Comedy Theater. Stevenson has had recurring roles on "Parks and Recreation," Comedy Bang Bang," and "Brooklyn 99," and has appeared in the series "This is Us" and "Hawaii Five-0." In addition, he voiced and puppeteered the character Edgar on "Duff's Happy Fun Bake Time" and worked as an additional puppeteer on the Netflix show "Julie's Greenroom" starring Julie Andrews. He is sending love to his wife and daughter in Los Angeles.
LEA MADDA – JESSICA/JOLENE
Lea Madda is a native of Southern California and is making her CVRep debut in Hand to God. She originally trained to be an opera singer with the SITI Company and at the Grotowski Institute in Wroclaw, Poland. She later studied at the UCLA School of Theater, Film, and Television. She has appeared in Knot Free Productions' In Trousers, Anne, A New Play at the Museum of Tolerance in Los Angeles, The Sound Of Music with Anchorage Concert Association, Sister Mary Ignatius Explains It All For You at Hollywood Fringe, She Loves Me at the Actors Co-op in Los Angeles, in Dezart Performs production of A Bright New Boise, and in Haiti at Will Geer Theatricum Botanicum. She is also a voiceover artist and teaches the Suzuki/Viewpoints techniques at various venues throughout the city.
BLAKE KEVIN DWYER – TIMOTHY
Blake Kevin (He/Him) is thrilled to return to the CVRep stage following his debut in Fun Home. His television credits include "With Love" for Amazon, "Good Trouble" for Freeform, "Saved by The Bell" for Peacock, and "Cupid's Match" for CW Deed. He has performed in over 20 productions, including Carrie The Musical, Title of Show, On Borrowed Time, Spring Awakening, Rent, Nine, and Dogfight. Dwyer's film credits include Debunckers on Showtime, Magic Carpet Rides, and The Harvest. He would like to give special thanks and love to his fiancé, Peter, his entire family, Malissa Young Management, and Circle of 10 talent. @Blakekevindwyer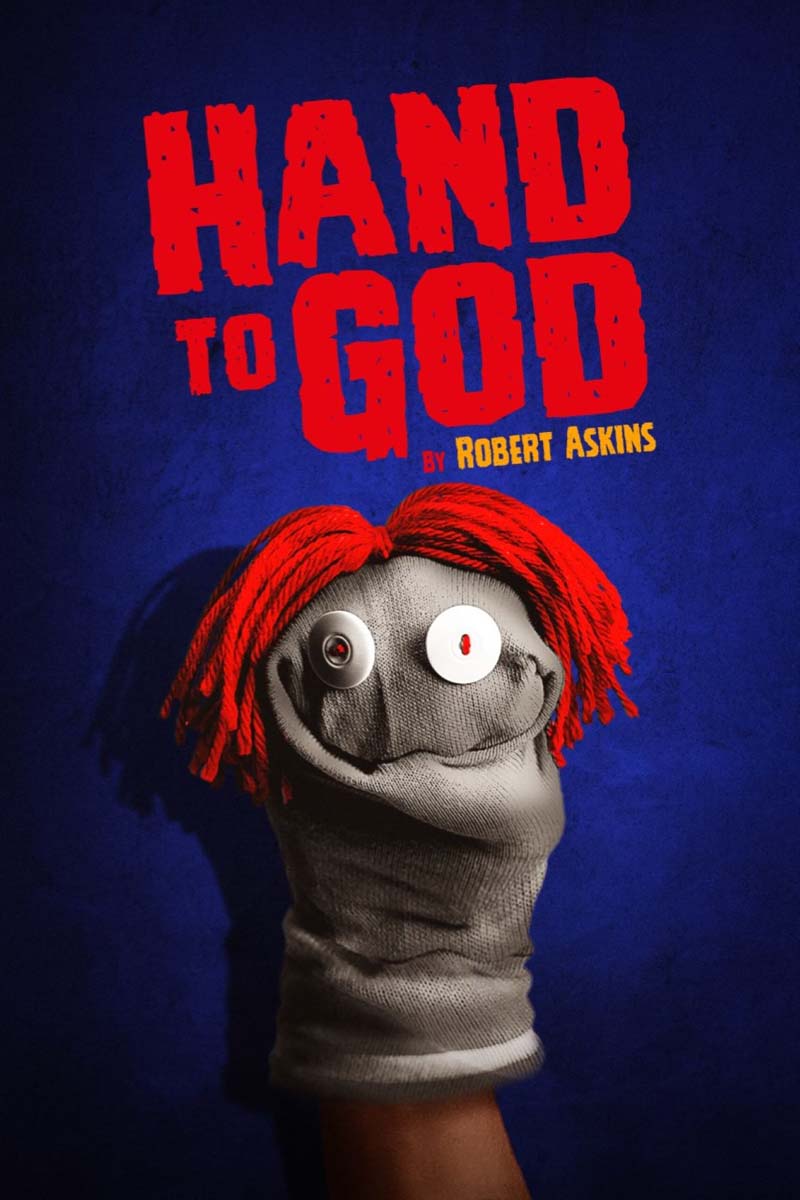 HAND TO GOD
Dates & Times: Tues-Fri, March 28-April 2 and April 4-9, 2023, at 7 p.m.
Sat, April 1 & 8 and April 2 & 9, 2023 at 2 & 7 p.m.
Sun, April 2 & 9, 2023 at 2 p.m.
Tickets: $58, $63, $73
To purchase: Online - www.cvrep.org
Phone - (760)296-2966, ext. 115
Box office - 68510 East Palm Canyon Dr., Cathedral City
Groups: Phone - (760)296-2966, ext. 115
Facebook: http://facebook.com/CVRep
Twitter: @CVREP
COACHELLA VALLEY REPERTORY is a non-profit, professional regional theater. It is the only theater in California's Coachella Valley with Small Professional Theatre (SPT) status with Actor's Equity.

CVRep produces professional theater and educational programs presenting thought-provoking theatre of substance. It also offers professional-level theatre training for young people and adults in its Conservatory, Writing Competition, and other meaningful, socially, and culturally relevant children's outreach programs. As a member of the Coachella Valley community, CVRep is committed to enriching the quality of life for all residents and providing memorable experiences for the Valley's many visitors.